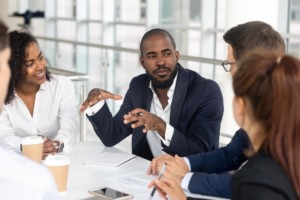 As the leader of your company, or a purchasing agent for your company, you are depended upon to make the best buying decisions. You know, as every talented buyer does, that buying decisions are never made in a vacuum. They demand careful research online and off, instinct borne from years of experience, decisive action and a cadre of allies and advisors, better known as salespeople. But not just any salespeople.
As COVID is driven out of our towns and cities be prepared for an entirely evolved breed of selling professionals that replace traditional selfish motivations with selfless disciplines. Yes, I said SELFLESS. If we have learned anything from the apocalypse we've survived together, it is selfless consideration for our business colleagues.
Tomorrow's selling professionals are seasoned business people; salespeople who have your best interests at heart. These are not the sales-trained, sales-forced, commission-desperate bounty hunters you've grudgingly encountered over the years. These are principled business advisors.
Governed by their respect for you, the buyer … you will immediately identify these salespeople by their sophistication, always prefacing their outreach to you with a formal letter of introduction. Always scheduling meetings, never invading your property uninvited. These evolved business allies are market-savvy guides and advisors. They are salaried professionals (never commissioned). Educated (never trained) and motivated to always have your back.
These unique women and men, diverse as the world around us, are dedicated to your success first.                                Settle for nothing less.
Author                                                                                                                                                                                                        Peter Skakum