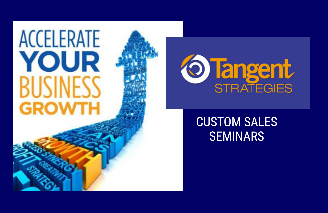 TANGENT STRATEGIES' CUSTOM SALES SEMINARS outperform most business growth seminars for one fundamental reason. Each full-day, Tangent-catered seminar is custom-designed to suit your company and your company alone … its industry, target markets, your resources, challenges and growth goals. Standard Seminar Fee: $3000.00 + tax. M to M Offer: standard fee reduces by $125 + tax for every year of your company's verified Halifax Chamber membership. Offer includes separate full-day, Tangent-catered DISCOVERY MEETING as preparation for your seminar. Offer open to company owners and non-competitive companies only. A maximum of five companies are eligable. Maximum audience 5 persons per seminar. Offer expires December 31, 2023. First come first serve. Non-transferable. Client provides DISCOVERY and SEMINAR meeting locations.
Tangent will create a special reduced price for members of only 1 to 3 years.
Call Tangent Strategies 902-446-3995 to plan your custom seminar.  … look forward to meeting you.